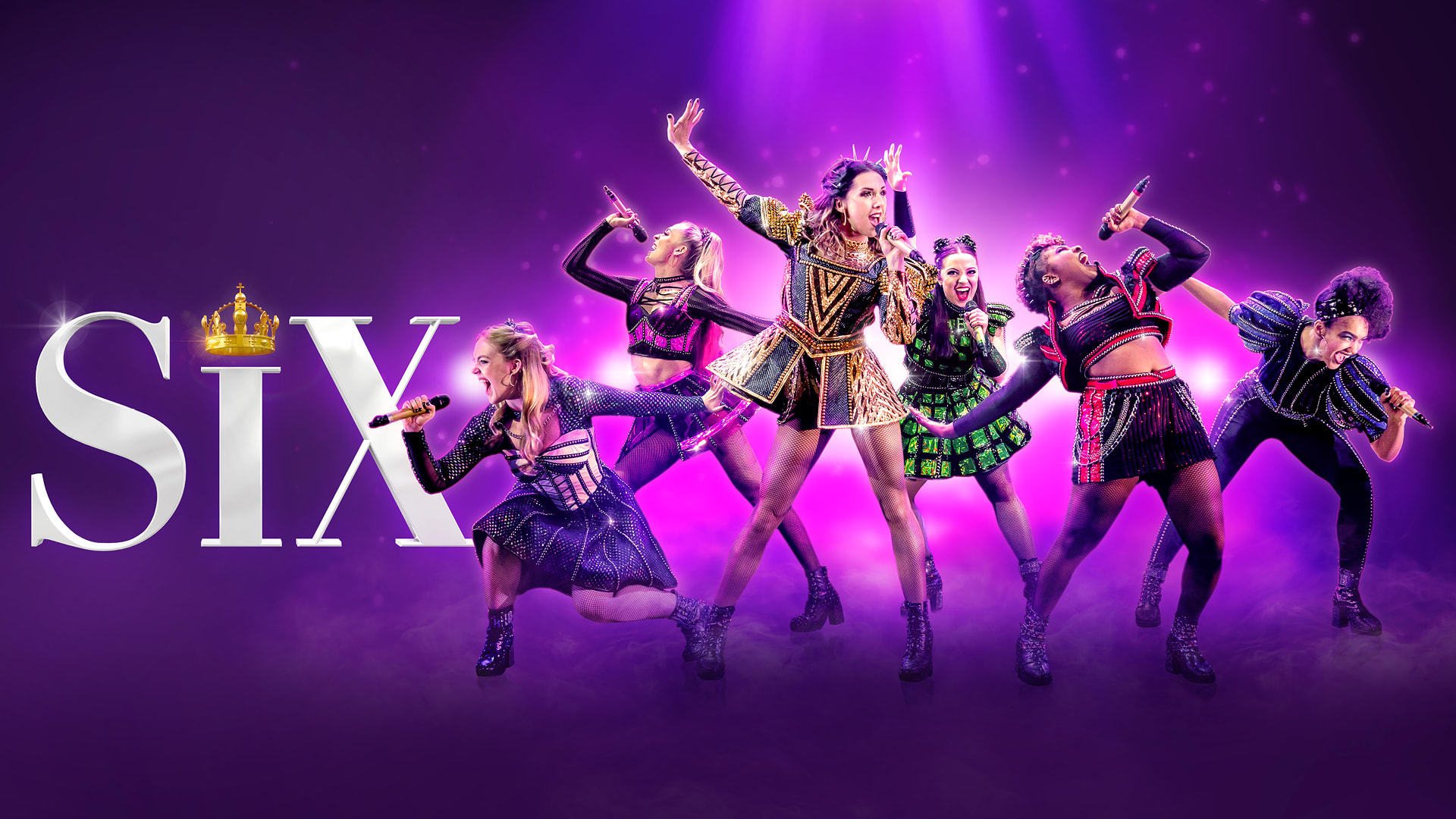 Imagine
you're at a Spice Girls concert, but
this time there are six girls instead of five (or four if Posh doesn't
show!).  
The costumes are raunchy and the
girls have stupendous vocals and tight dance routines with great choreography
all supported by a talented all-girl band.  
This gives you a flavour of a night with these "Tudor Spice Queens", who compete to tell their individual stories
in a competition to figure out who was treated the worst by the womanising King
Henry VIII.  From the first second these
girls bound on to the stage they give 150% of high octane energy and you know
you can sit back, relax and have a great time.
In
his final year studying at Cambridge University, Toby Marlow had the idea to
create a musical based on the six wives of Henry VIII presented as a pop
concert and collaborated with fellow student Lucy Moss.  
SIX premiered
at the Edinburgh Fringe Festival in 2017 and attracted the attention of Kenny
Wax and Global Musicals, who took the show to the Arts Theatre in London for
four nights. A UK tour followed before the show returned to the West End for a
short run, with a studio recording being released in September 2018.
SIX has now toured in America and
Australia with a stint on the Norwegian Cruise Line and in March 2020 will open
on Broadway.  It's an incredible story of
success that Toby and Lucy could only have dreamed of when they were working on
this ambitious project as students.
I'm
sure most of us know the story of Henry VIIIs wives, Catherine of Aragon
(divorced), Anne Boleyn (beheaded), Jane Seymour (died), Anna of Cleves
(divorced), Catherine Howard (beheaded) and finally Catherine Parr who survived
her marriage and went on to re-marry the love of her life, Thomas Seymour.
SIX gives the Queens a voice. Set as a pop concert, with
the Queens as a girl group, they sing a number of songs including "Ex-Wives",
"Don't Lose Your Head", "I Don't Need Your Love" and ending with "Six".  
For me the most memorable song has to be "Heart
of Stone" sung by Lauren Byrne (Jane Seymour), it's a beautifully constructed
song covering a wide range and Lauren gives an emotionally charged performance.
  Lauren Drew (Catherine of Aragon),
Maddison Bulleyment (Anne Bolelyn), Shekinah McFarlane (Anna of Cleves), Jodie
Steele (Katherine Howard) and Athena Collins (Catherine Parr) all have equally
superb vocals and the tight harmonies are incredible. 
I loved the funky sequined costumes with glittery boots,
designed by Gabriella Slade that allows them to dance and move around the stage
easily and effortlessly.  
The whole production
is very tight, energetic, fun and gives a unique twist on Henry's life hearing
the stories from the Queens perspective.
It's a wonderful night's entertainment.  The theatre was packed with at least half of
the audience made up of schoolchildren, giving them an insight into history
they'll never forget.  
The standing
ovation was well deserved for this fabulous troupe projecting girl power. 
 Reviewed by:
Yvonne Delahaye
11.2.20
@yvonnedelahaye