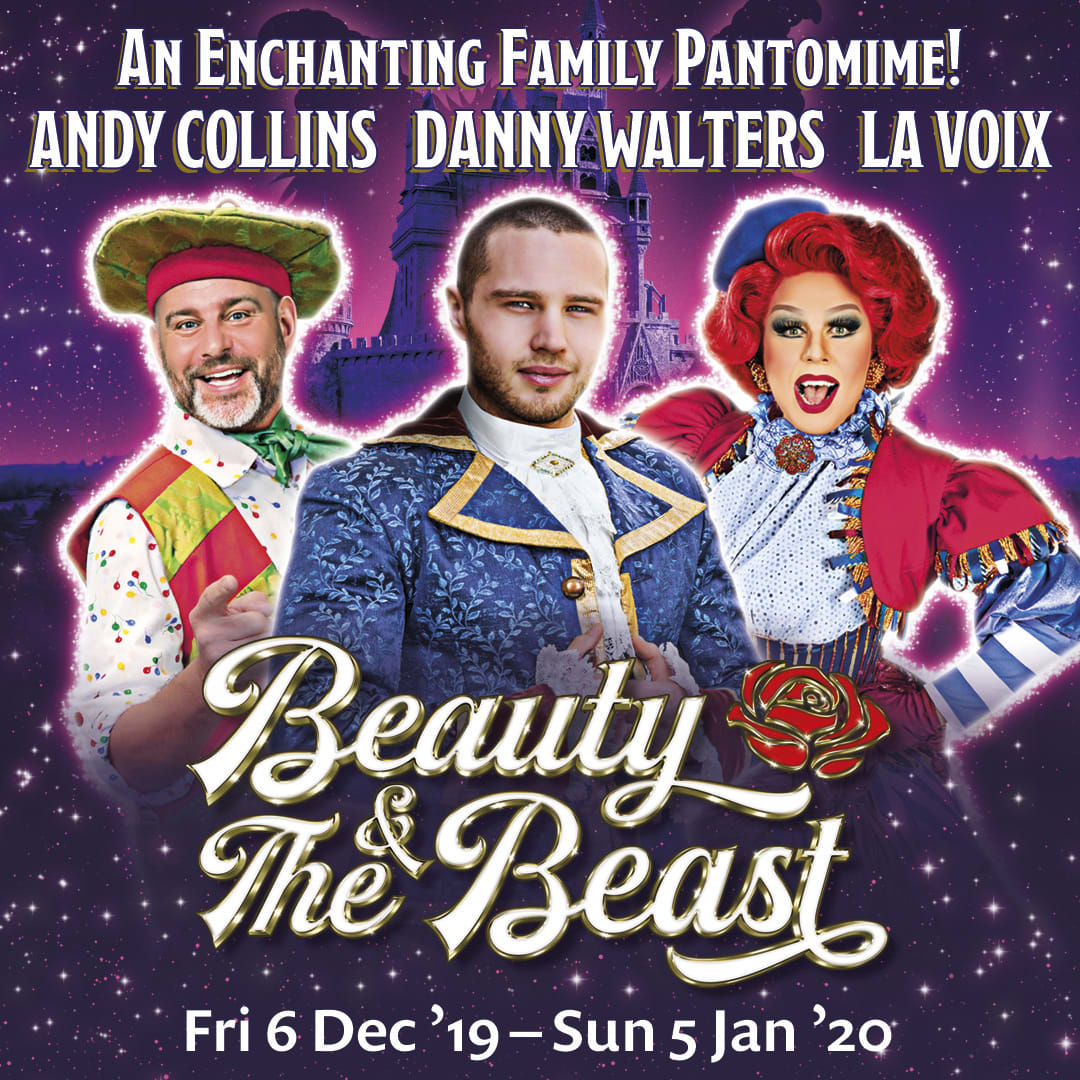 Beauty and the Beast
Imagine a man dressed in a giant shrimp costume, running
across the stage and singing The Twelve
Days of Christmas with the voice of Tony Hadley?  Oh yes, it's panto time again (Oh no it isn't!)
and the real legend was sitting in the audience watching the show, bemused at
how cleverly they'd edited his voice to fit in with the song. 
As usual, the fall guy in this routine is the comic marvel
that is Mr Andy Collins in the incarnation of Louis Pot et Pan, being made to run through the audience to collect
the items time and time again.  I always
breathe a sigh of relief (as I think Andy does) when he's back on stage, as
that is so exhausting to watch never mind perform!  Water pistols were very evident this year and
he got a good drenching as did a lot of the audience.
The other part of this wonderful double act, the fabulously
divine, La Voix, played his mother Polly
Pot et Pan and relished the chance to make Andy work for his money.  With a fantastic voice, stunning costumes and
great comic timing it's always a joy to see her perform. 
Playing the
Beast/Prince is Eastenders actor
Danny Walters, who is also known for his role of Tiger Dyke in Benidorm.  He does a superb job maintaining the physical
challenges of playing the Beast, creating a gruff, intimidating character who
is tamed by the beautiful Belle (Amelia
Adams-Pearce) who he keeps locked up in his castle.  When she declares her love and kisses him,
the spell he'd been put under releases him and he returns to human form as the Prince.
Completing the cast is accomplished actor, David Alcock, who
plays Belle's father, Clement. 
Of course there has to be a baddie for us all to boo at and Michael
Quinn is delightful as Hugo Pompidou,
the man with the most enormous ego who refuses to believe that he could be
rejected.
The play itself is patchy and the first act is a bit
confusing as there wasn't much to like about the Beast, but everyone agreed that the second act was much better as
we saw a bit more of his softer  side.  It
still seemed a bit of a stretch to understand how Belle had fallen in love with him though, but  hey it's panto not Chekov!
With gorgeous costumes, clever sets, brilliant dancers, all
supported by a live orchestra the show is an essential part of Christmas
entertainment.
Book your tickets now:
Performances:                                 
Fri 6 Dec 2019 –
Sun 5 Jan 2020 (Times vary)
Box Office:                         0844
871 7607 (Calls cost up to 7p per min plus your phone company's access
charge)
Tickets:                                                Tickets
from £13
Groups Hotline:               0333
009 5394
Access Booking:               0800
912 6971 (Bkg fee. Calls cost up to 7p per min plus your phone company's access
charge)
Online Booking:               www.atgtickets.com/Aylesbury
(bkg fee)
Reviewed by:

Yvonne Delahaye
10.12.19
@yvonnedelahaye